How can I transfer a GEDCOM file between my Mac or PC and my iOS device?
To copy a GEDCOM file to your iPhone, iPad or iPod touch use Apple iTunes, which can be downloaded for free from www.apple.com.
Open iTunes
Connect your iOS device to your computer and open iTunes and select your iDevice on the left side of the navigation menu.
Open the Apps section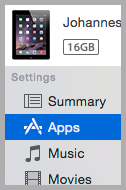 Select "Apps" in the navigation bar at the top of the iTunes window.
Select MobileFamilyTree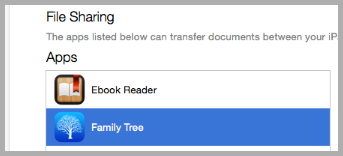 Scroll down to the "File Sharing" section and select "Family Tree" under "Apps". The documents currently stored on your iDevice will be displayed at the right side under "FamilyTreeDocuments".
Import or export the file

Click "Add.." to add a new file to MobileFamilyTree 7 or click "Save To…" to save a file from your iDevice on your Mac.