We are delighted to announce our recent launch of
iFinance 4.4 for Mac and iFinance 4.4 for iPhone and iPad
, a new and even more powerful version of our intuitive and versatile finance management app!
iFinance 4.4 is a free update for all customer who bought iFinance 4. For new customers,
iFinance 4.4 for Mac
sells for just 38.99 US$ and
iFinance 4.4 for iPhone and iPad
for 8.99 US$.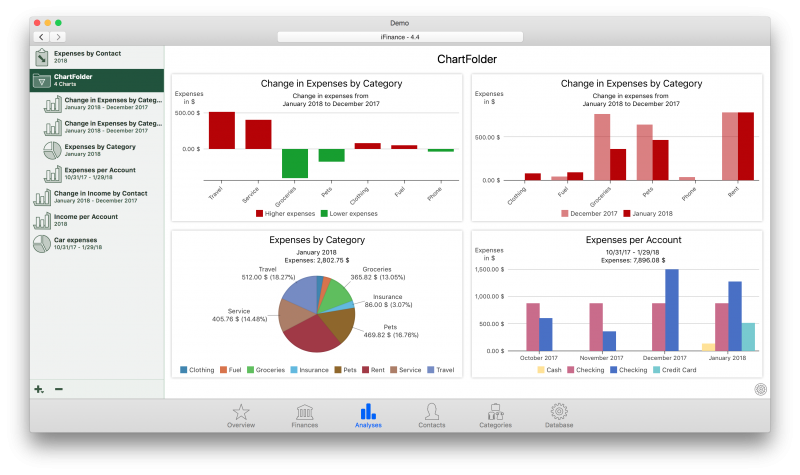 Interactive 2D Diagrams
While iFinance's wide range of clearly arranged charts and reports has always provided great at-a-glance overviews of your income and expenses, version 4.4 takes the reporting feature to a new level! Its 2D diagrams are now interactive – you can optionally display auxiliary lines for better readability or have the mouse pointer show the exact amount corresponding to its current position by simply placing the mouse (or your finger if you're using iFinance for iPhone or iPad) over any spot in the diagram.
Time Comparison Charts
iFinance 4.4 features time comparison charts as an entirely new chart type. Specify two time periods you want to compare and iFinance will indicate any increases or reductions in spending. The time comparison feature also lets you display comparison bars for absolute or relative comparisons. You can make comparisons by day, week, month, year, and any custom time periods you enter manually.
Reports and Diagrams Folder
iFinance 4.4 provides a new feature to help you organize your reports and charts. If you've saved more than one report or diagram to a given folder, iFinance will now let you display up to four of them at a single glance. Of course you can also continue to display one statistic at a time.