We're happy to announce the launch of a
new major version of our popular screencasting app Screenium
! Create tutorials, record your gameplay or other videos – Screenium 3.2 records whatever happens on your screen. The convenient editor lets you cut your recordings and add transitions, effects, and fade-ins. You can also export or share your screencast, or upload it directly to video platforms such as YouTube or Vimeo.
The new version offers a wide range of new features and is free of charge for all customers of Screenium 3.0 and 3.1! For new customers,
Screenium 3.2 is offered with a 50% discount until June, 3rd
.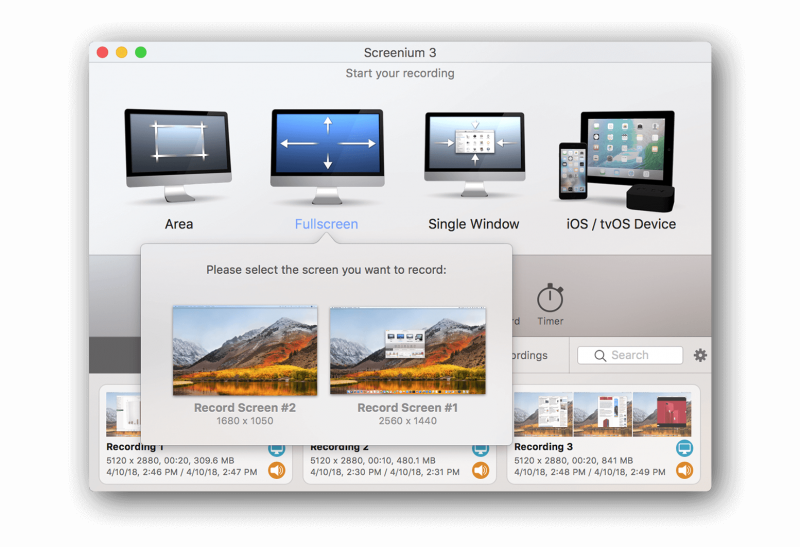 Perfect performance at 5K resolution
Previous versions of Screenium were already able to smoothly record an impressive 60 frames per second at 4 K. Version 3.2 now offers even better performance and effortlessly handles even 5 k recordings at maximum frame rate. No other screencasting app on the market offers smoother recording or is more powerful even for graphics-intensive applications such as games – making Screenium 3.2 best-in-class in terms of performance!
Scaled recording – reduced memory usage
It is not always necessary to record screen content at the highest possible resolution. To minimize memory usage, Screenium 3.2 offers a "Scaled Recording" feature, which optionally scales to a lower resolution (for example 25% or 50%).This significantly reduces memory load, particularly for very long recordings.
HEVC/H.265
As of macOS 10.13 High Sierra, Apple has been using the new HEVC video standard, which is also referred to as H.265. All recordings created with Screenium can now be exported in HVEC format. This achieves the same quality as H.264, but significantly reduces the file size; of course, you can also import HVEC videos.
Master/Slave audio tracks
Screenium 3.2 offers a convenient new feature to manage multiple audio tracks: for example, if you'd like to add background music and a narrator voice to your recording, you can now define one of the two as the master track. The other track – in our specific example the music track – will then automatically be set as the background track and played back at a lower volume.
Record Keystrokes
Screenium 3.2 has yet another handy new feature in store: you can now optionally record keystrokes. To protect your privacy, passwords remain hidden at all times – no password entered during a screencast recording will be displayed and/or recorded. The editor allows you to place the virtual keyboard at any position in your screencast, show or hide the keyboard during select sections, and specify the desired display mode.